The Advancement of the Kingdom of God
It is at times hard to believe that another year is now history.  As we review 2022, it was an exciting year in which many things were accomplished in the Kingdom of God, by the grace of God, through our ministry.  In doing so, some of the highlights of the year were listed for the perusal of those who follow our ministry and who support us with their prayers and finances.  
Thank you so much for your commitment and support of our ministry.  Together we are doing great things both nationally and internationally.  Words fail at times to convey our appreciation but know that you all are always in our hearts and prayers.  
Please note that this brief report does not include our activity in producing and publishing weekly articles nationally in many venues.  The weekly leadership tables conducted by us via Zoom involve about 40-50 movement leaders under the canopy of Christ Covenant Coalition and remain a valuable resource for both historical insight, doctrinal discussions, and fellowship.  This in addition to our ministry impact in our church campuses convinces us of God's provision and enabling grace for His mandate on our lives. 
To my delight, my itinerant ministry was re-energized to a level somewhat close to pre COVID status. Again, what follows is just a snapshot of my activity in 2022:
January 14th: A Zoom meeting was held for "Ignite" Campus Ministry led by Niko Peele, a young apostolic leader.  The meeting was attended by many young campus ministry leaders to whom I ministered the principles of discipleship from my book, "The Jesus Principles".  This provoked great discussion about discipleship after the ministry of the Word.    
January 16th:  My close friend and partner in the Kingdom, Bishop Kyle Searcy, invited me to preach to a post covid gathering of hundreds at a Sunday service at Fresh Anointing Church in Alabama.  God has brought Bishop Kyle and I together for the purpose of advancing the gospel in the global arena.
God moved powerfully through my prophetic teaching on volunteerism. At the end of the message, an altar call for a commitment to serve in the church was given and many responded and were ministered to by Bishop Kyle.
January 22nd:  A three-hour teaching on the "Jesus Principles" via Zoom was done by me for Gustavo Lara and his network in Argentina.  In attendance were about 100 network leaders, pastors, and marketplace people who participated in this presentation and dialogue about how Jesus released greatness in people.  The network is a massive one and extends throughout Latin America and beyond.  It was indeed a delight to serve Gustavo and the network in this capacity.
February 19th:  A second 3-hour conference via Zoom was done by me for Gustavo Lara's network in Argentina and proved to be a great success.
February 20th:   I was invited to minister at Agape House of Worship in New Jersey led by apostolic leader, Jide Lawore. Pastor Jide, my spiritual son, also serves as the treasurer of our network, Christ Covenant Coalition. Agape House of Worship owns a huge property; has a school for children; and numerous outreaches which bless their community. This strong apostolic local church has kept growing and expanding even during COVID.
On this day, Pastor Jide was commissioned to his apostolic assignment by Bishop Kyle Searcy and me. Later, we were joined by another CCC leader, Pastor Raul Burgos.
MARCH 11-12th:  Niko Peele and his "Ignite" Campus Ministry in Atlanta, GA invited me to minister to about 100 campus leaders on the various aspects of the great commission and biblical discipleship.  It was an amazing time connecting with many young leaders and pouring into them.
Niko Peele is an amazing believer and a significant voice to the next generation.  It was an honor to be with him and in the company of the many campus leaders who attended the meeting.
March 13th:   Another opportunity developed for me to minister via Zoom from my book entitled, "The Jesus Principles" to the Argentinian Network, (UNGE) led by Gustavo Lara. There were dozens of movement leaders, pastors and marketplace people who participated. We also had almost one hour of Q & A which was rich in content and discovery for many. 
March 27-30th Attended significant strategic meetings in Dallas, TX with key leaders, ICAL convener John Kelly (my overseer), Global marketplace leader, Ron Simmons and others. 
While in Dallas, on Tuesday, March 29th, I ministered to the great staff of Sojourn Church with lead pastor and friend, Pastor Chris McCrae. We dealt with some leadership subjects from my book "Cutting Edge Leadership" and much dialogue was had regarding the future of the church in America and much more. 
APRIL 7th The ministry of the Word went forth to about 70 pastors and ministry leaders in Tampa, Florida for apostolic networker and friend, Daniel Benard.
Among other things, the focus was on the "5 contemporary models of the contemporary Jesus movement" based upon Acts 1:8-9. There was a great response to the word, and a connection was made with young church planter Caleb Hyers, who is now a part of our Christ Covenant Coalition, and Nick Panica who will have me speak at his church and to his pastor's network in January of 2023.  

April 21-22nd This was the first face-to-face table meeting of Christ Covenant Coalition since COVID began.  We had an amazing time as about 50-60 apostolic leaders gathered in New Rochelle, NY for two days of fellowship, prayer and sharing testimonies related to how God got them and their ministry through the days of COVID and civil unrest.  It was one of the greatest two days of our lives as we were all impacted positively and encouraged by the amazing stories of provision and deliverance during perhaps the most difficult two years of any of our personal and ministerial lives. 
In the company of my brothers who are involved with Christ Covenant Coalition, on my left: Pastor Ned Maraman, Pastor Kyle Watkins, and on my right: Dr. Israel Pena.  
MAY 1st
My dear friend Angel Marti, who leads the largest and most influential church in Ponce, Puerto Rico invited me to minister at both morning services in The Family Church.
This extremely humble man leads a church with multiple ministries for children, the arts, a school, and a retreat center. The church has been used by other ministries (such as Samaritan's Purse) as a headquarters for massive relief efforts required in the wake of hurricanes and natural disasters on the island.
During the first service, teaching was done on Ephesians 4:1-16 in the light of "having a balanced church".  Ephesians 4 is the essential blueprint for us to understand the body of Christ (the Church) and how it will flourish and fulfill the will of God. In the second service, my teaching was on the "Jesus Principles" book and what it means to follow Jesus.  God granted me great liberty and a powerful anointing to both preach and teach in both services.  Hundreds responded to the altar call in each service.  I miss my dear friend Angel and hope to see him and the church again soon. 
May 22nd- Ghana trip
Bishop Kyle Searcy introduced me to Archbishop Charle Agyinisare, who leads one of the largest churches in the continent of Africa. The church meets in the 14,000 seat "Perez Dome" and they had multiple services every Sunday pre-Covid.  Archbishop Charles has since become a dear friend and later this year joined our apostolic team which went to Lebanon to minister.
On Friday May 27th I taught 2000 pastors on "the biblically balanced church" based upon Ephesians 4 1:1-16.  Saturday May 28th, my preaching focused on "The 5 Snapshots of the Great Commission"; and on Sunday May 29th, thousands attended Perez Chapel where my teaching was on the "6 Steps to Biblical Influence "based on Genesis 1:28.  
JUNE 4-5th
I taught and preached at the Citadel Church in Virginia led by my spiritual daughter Cindy Meeks and her incredible husband, Daris Meeks.  This new church plant is filled with professionals and people of influence. Citadel Church is affiliated with our movement and organization, Christ Covenant Coalition.
On Saturday, my teaching to the leaders of this church was on Ephesians 4 presenting it as the architecture of the church and preaching on how to release the saints according to their ascension ministry gift.  The focus in my preaching Sunday was on the generational church using Paul's second letter to Timothy, his son in the gospel. God gave me a great anointing to present these messages with scriptural clarity so that the saints would understand their role in the local church.
June 12th- Pastor Kyle Watkins, my dear spiritual son and his lovely wife, Rachel, invited me to minister at Kingdom Culture Church in Patchogue, Long Island that is under their oversight.  They are doing amazing work impacting and serving their community through sports outreaches and more.  I am very proud of them! 
That Sunday my preaching was on the "7 things the Revelation 4 Throne Worship teaches the church". A heavy anointing and conviction fell upon the whole church as God enabled me to expound upon the implications of John's throne room vision revealed in the book of Revelation.
June 14th the annual USCAL Bridge Summit took place via Zoom.  It was an amazing online gathering with almost 900 participants not including live stream venues on FB and YouTube. 
The theme was about the Church and its Missional Movement. 
Keynote speakers were Bishop Dale Bronner, Bishop Vaughn McLaughlin and me; other speakers included Doug Stringer, Thomas Schirmacher, John Kelly, Randy Clark, Craig Keener, Fred Markert, Leif Hetland, Dave Balestri, Dunstan Teo, Jerry Lopez, Andrew and Kenra Momon, Kristina Hosch, Justin Mattera, Michael Moore and others. 
June 16-17th Pastor Kathleen Verna hosted and invited me to do an online conference for Pastors and Leaders in the New England area at which teaching was on Apostolic strategies for Kingdom Advancement. 
July 7-9th With much excitement, I joined my dear friends, Apostle Gustavo Lara, his son, Yonathan Lara, Apostle Ben Paz, David Greco and others as we convened with thousands of people in Buenos Aires, Argentina.
On July 7th a teaching was given by me on "The Glory of God expressed in Oneness." There was a great liberty to preach with people understanding more than ever that they needed to go from mere "unity" to "oneness" of heart and mind to release divine synergy and impact the nations.
On July 8th I taught several thousand people on "the church in the workplace".  There were about four thousand marketplace leaders in attendance, many of whom were edified by this liberating message.  It empowered them to do the work of the ministry in their place of business.   At the end of the message, all stood up for several minutes shouting and praising God for the timely and uplifting ministry of the Word.
On the same day, 800 to1000 pastors gathered to hear me preach on "10 common traits of the Global Apostolic Movement".  God granted me wisdom to preach this prophetic message which enabled many to understand the importance of embracing the global apostolic movement and its impact on the church and the world.

July 15-17th
I had the pleasure of ministering again at a conference hosted by Son Rise Church, under the leadership of my dear young friend, Pastor John Hammer.

His dad, Dan, founded the church about 40 years ago and built it up to be one of the largest and most influential churches in the town of Everett, in Washington state. Pastor John took the church from his dad a few years ago and continues the work with excellence.

On the 15th of July, I led a panel discussion at the church on the topic of disciple making.  Later in the day, another one was held and focused on reaching the community through marketplace leaders. Saturday, I preached on "Why the church should be released in the workplace."  Several hundred people from many different churches attended the conference and were all blessed by the speakers.  We perceived that all were refreshed and encouraged to do the missional work of winning people to Christ and discipling them.

On Sunday the 17th my preaching was on "Having a Generational Church" from the second letter to Timothy.  Many people came forward and dedicated themselves to perpetuate the faith to the next three generations.
On July 24th, after living in Bay Ridge, Bklyn., NY for 32 years, my wife, Joyce and I bid farewell to our lovely brownstone house and moved to a more spacious environment in Staten Island.  It was a bittersweet experience as we still consider ourselves Brooklynites and deeply loved our Bay Ridge neighbors and community!
View from our new home:


August 21st
I  ministered at Communidad Christiana Church in New Jersey. Pastor Raul Burgos, the founder and pastor, is a close friend of mine for almost thirty years and is part of our CCC network.  Focus was on the "14 contrasts between the Kingdom mindset and the worldly mindset in finances". There seemed to be a real breakthrough in the atmosphere regarding the attitude towards money. Many responded to the message and came up for prayer. 
September 5-14th
During this time, the Christ Covenant Coalition Apostolic team traveled to Lebanon on a ministry with a prayerful aim to impact both the church and other arenas of the country. 
This was my third trip to beautiful Lebanon in the past year and our second apostolic team ministry trip. Our network leaders contributed to the large amounts of medical supplies, supplements, and other humanitarian aid provided to families and children.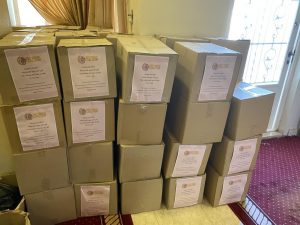 We experienced a breakthrough with the Evangelical churches in the nation and coordinated a conference attended by about 100 pastors and leaders from all over the country.  At this meeting, one of the leaders of the "Supreme Council" of Lebanon spoke eloquently about the financial and spiritual needs of the nation and even included detailed statistics.  Several sessions were used by me to teach and preach to those in attendance using my book, "Cutting Edge Leadership", as the framework.  
There was an amazing response to the conference, which culminated in the distribution of the books that were brought to the conference (about 300 of my books printed in Arabic) freely made available to the attendees.

During our stay, our team also gave money to help support needy students studying in three Evangelical schools and churches. In addition, several of our leaders had the opportunity to minister in some village churches during the week.
On Wednesday, September 7th, CCC made presentations, gave donations, and humanitarian aid to a Nazarene School that is in the city of Tyre in Lebanon.  They provide education to about 1000 students including 65 refugees from Syria.  They also have a strong evangelical church of 300 members which ministers to the community in their village.

On September 10th, we also went to one of the leading evangelical schools and largest congregations in the nation under the leadership of Rev. Hady Ghantous.  It is in the city of Miniara and has a regular school with 600 students and another refugee school with 80 students.  CCC donated money to the school, church, and gave money to the pastor and his wife.

About five of the key apostolic leaders on our team had a private meeting with one of the top military leaders in the nation. Each of us gave our testimony about how we received Christ, and it was videotaped.  This proved to be a moving experience for us, as well as for the leader we met with.  We all came to a greater appreciation for how our close-knit relationship as brothers developed over the past year.

We ended our ministry in Lebanon by having a healing and evangelistic service on a Sunday night; about 600 people showed up and many were healed and made decisions for Christ.
On the following day, Monday we met with President Michel Aoun of the Lebanese Republic for about 30 minutes and prayed for him after an extensive dialogue.

October:  This month saw the release of my latest book: 
"The Global Apostolic Movement and the Progress of the Gospel "
For the first week, it was rated by Amazon as the #1 new release in the category of New Testament studies.  Many Pentecostal scholars, ministry leaders, and influential global leaders have read the book and now recommend it.  
It was also endorsed by the following notable scholars:  Jeff Reed; Steve Kemp; Alan Hirsch, Randy Clark; Dr. Michael Brown; Dr. Mark Chironna;  Dr. Craig Keener; Dr. Ron Cottle; Dr. Larry Keefauver, and others. 
My latest book has been called my magnum opus and has proved to be the most important, yet also the most difficult book ever researched, written by me.  It essentially encapsulates 7 years of research and documentation done to earn my ThD from Antioch University. (Much of the academic content was left out- yet it is almost 400 pages long!)

It is my desire and hope many reading this report will purchase a copy.  The book is available on Kindle. You may get a copy either through amazon or via my website at https://josephmattera.org.

October 2-4th

Our annual 3-day Christ Covenant Coalition retreat was held under my leadership and oversight.  The focus at this retreat, besides prayer and fellowship, was "on finishing well" based on the last letter written to Timothy by Paul the apostle.  The fellowship of all the men and their wives at this retreat, as usual, had a profound impact on us all and continued to bond us together for the advance of the Kingdom of God.  

October 11th 
Matt Taylor, a scholar doing research to write a book on Dr. Peter Wagner, interviewed me.  We shared many insights during this time.  He contacted me and several others because Peter mentioned our names in his memoirs. It is my hope that his book will be balanced and accurately represent Peter's life impact and beliefs.

October 15-16th
Visited Seattle to be with another great young leader and Pastor, Ben Dixon, who pastors one of the flag ship Foursquare churches in Washington State, Northwest Foursquare Church.
On both Saturday evening and in two Sunday morning services, I ministered on the "Acts narrative as the book of prayer" to the church at a large.  God gave me great liberty to preach and teach combining the themes of prayer, disciple making and apostolicity that the Church should continue today.
October 19th  
The NAR statement was released and eventually I  was a guest on "The Line of Fire" radio show with Dr. Michael Brown to discuss this and my latest book.

The backstory to this statement is the following:  sometime in late August 2022, I contacted Mike Brown about my concern regarding the conflation of the gospel and politics.  Some evangelicals and the secular media attempted to lump together all Christians who use the term "apostolic" under the banner of the New Apostolic Reformation (NAR) group.  The NAR and their beliefs were targeted and referred to as a global and national conspiracy.  This thinking overall was prejudicial to the Church of the Lord Jesus Christ and had to be addressed.  
With much concern for Christianity at large and the true meaning of the gospel, a statement on the "NAR and Christian Nationalism" was drafted by me and  Dr. Michael Brown, . We also received input from scholars and dozens of leaders for about two months prior to its release.
Subsequently, more than 400 seasoned leaders signed the statement with more to follow.   We received much press coverage from the secular media as well as many major Christian media platforms.  We anticipate that many more Christians, ministries, and churches will sign this statement which may be found at https://narandchristiannationalism.com
On Friday, October 21st, I ministered at noontime for about a half hour via a Zoom meeting for a National Prayer movement led by Daniel Benard.
October 23rd, I preached in Oasis Church in Staten Island -a great church that effectively serves their community and is led by my dear friend, Pastor Tim McIntyre.

After that service, Joyce and I drove to Albany for a service in City Church for the dedication of their new building! I preached on the Acts 1:8 missional commission to a few hundred people including several key pastors from the Albany region.  
The building for City Church was dedicated in the evening on Sunday, October 23rd in Albany joined by several key Pastors and leaders from Albany.
We are extremely proud of Michael Moore (second from the right) who founded this church and now is the lead pastor over our 3-campus collective which includes the Resurrection Church congregations both in Brooklyn and Staten Island.
On October 26th a teaching seminar was conducted by me for dozens of leaders in Ohio on Zoom.  It was based on my book, "Cutting Edge Leadership".  The event was coordinated by Harvest Net Ministries, overseen by a great leader, Thomas Hare, who has since become a dear friend to me.
My subject matter was based on one chapter of the book:   "Discerning between horses, sheep and wolves in the Church".
October 30th, Preached in Generations Church in New Rochelle, NY, led by one of my closest colleagues in the ministry-Bishop Ray Mott (VP of Christ Covenant Coalition) and his wife, Pastor Sherri-Ann Mott. God moved powerfully as I preached on the habit of "corporate prayer" based upon the book of Acts. Many people responded, came forward, and committed themselves to seek God. 
November 4-6th, ministered to several hundred leaders and volunteers in Agape House of Worship in New Jersey led by Pastor Jide Lavore. (Who serves as the treasurer and trustee of Christ Covenant Coalition).


At the Friday evening revival service – I preached on "How volunteers can stay refreshed in the Lord" by using the principles found in Isaiah 40:31. The Holy Spirit gave me great clarity and authority to explicate the Scriptures and it greatly edified the several hundred in attendance.

The next day, Saturday at the 10am general session, I exegetically unpacked Ephesians 2:10 which was followed by another 15 minute question & answer session.
During the late morning break out session with those who lead ministries (about 50), my teaching focused on "How to support the lead pastor" by operating as a strong functional team.  This was followed by another 15-minute question & answer period.

An early afternoon breakout session was done for the workers (120 people) on "How to effectively serve in the local church. This was followed by another question/answer session.

In the mid-afternoon, I preached the closing general session dealing with "The Royal Priesthood" (1 Peter 2:8,9) The Holy Spirit fell powerfully upon the church while I was speaking near the close of the message and I was not able to finish. We waited in silence and awe as the Lord burdened us with functioning as a priesthood that seeks and desires to know Him beyond all else.

On Sunday at the 10 am service I – spoke for 45 minutes on "The Missional Church "
November 11th, I taught and preached at our annual Resurrection Church men's retreat and dealt with the subject: "Allegiance coming through water Baptism and Communion."
November 13th, I ministered at the historic Bethel Gospel Tabernacle Queens, (now Foundation Church) on the 75th birthday of my close friend, Bishop Rodrick Caesar.  My teaching was on "the call of the missional church based upon Acts 1"


There was an extraordinary move of the Spirit during my prophetic preaching. The church was greatly moved and many of the leaders told me that the message was a reset for their church and aligned them to their original missional vision. Later that evening, I flew to Dallas for the annual gathering of the International Coalition of Apostolic Leaders.
November 14-16th ministry at ICAL in Dallas, TX

Monday 11/14 I met with the staff of Sojourn Church and taught on differentiating between horses, wolves, and sheep from my book "Cutting Edge Leadership

On the morning of the 16th, I taught several hundred apostolic leaders regarding "Understanding   the difference between the Logos, Rhema, Scripture, and the Bible".

God gave me great grace, clarity and anointing to unpack many crucial concepts in during the allotted time. Many of the top leaders and scholars came to me at the end and expressed how much my presentation helped them; one great scholar even asked me to send him my notes. .
On 11/16, Wednesday afternoon, it was a pleasure to meet with about 70-80 members of USCAL (United States Coalition of Apostolic Leaders) to provide them with updates regarding our movement.
During the Wednesday evening service, I was commissioned as the "International Ambassador of ICAL to the Global church".



As I knelt, Papa Kelly called up about 7 great prophetic and apostolic leaders to pray for me and for about 15 minutes -one by one, they prophesied life changing words over me that confirmed the global assignment which God called me to walk in at the present time.
11/18-19th
On the morning of Thursday 11/18 I flew to Cleveland, Ohio to teach at a three-day conference with Harvest Net ministries led by Thomas Hare.
That afternoon, I attended a fellowship luncheon with about 20 of their top leaders.

That evening, I taught about 70-80 leaders on "the Kingdom of God "

Friday morning, my teaching was on "The Kingdom in the Church and workplace"; on Friday afternoon, my focus was on "The Divided Gospel".  Saturday morning, I taught on "How to release the Ephesians 4:11 ministries in the Church and in the Workplace."

There was a great response to all the teachings but most importantly, connections were made with several significant Church and Workplace Leaders in the hopes of building long-term relationships in the Kingdom of God.
Thomas Hare and his wife are extraordinary and humble leaders whose only agenda is the Kingdom of God. I am delighted God saw fit to connect us!

On Sunday morning, Nov. 11th, I ministered at Community Vineyard Church in Akron, Ohio; led by Pastor Thomas Bloom and taught on our Royal Priesthood as indicated in 1st Peter.
A strong teaching anointing fell upon me and released much practical insight upon the congregation.

Pastor Thomas Bloom is a great leader and asked me if I would be willing to come back to speak into the church on an annual basis –this invitation was welcomed by me.
 
December 5-9th

An Apostolic Table was held in the Bronx with global movement leaders.  For four days I was a part of significant meetings to discern the will of God with global leaders from Latin America, Europe, Africa and North America.

With great South African leader Thamo Naidoo on 12/9/22



God moved in our midst and knit our hearts together even more.  
The Lord by His Spirit is causing an international convergence to take place which is connecting key movement leaders from many countries around the world.  
This is extremely exciting for all of us!
December 11th
Preached at the Love of Jesus Family Church in Orange New Jersey on Sunday at 7 PM. Pastors Jason and Gayle Alvarez have been dear friends for more than thirty years and they have done an outstanding job leading a local church that has impacted many nations!
My preaching that day was on "Understanding Jesus as the Logos of the Father".




Monday, December 12th, I did a Radio interview with my close friend and partner in the Kingdom of God, Dr. Michael Brown on "The Line of Fire" at 4:15 PM regarding the release of my new book "The Global Apostolic Movement and the Progress of the Gospel".
The video is available on YouTube.   https://youtu.be/VXrdQXD9tNU
Right after that I did another interview -this time on "Remnant radio" from 5:30 PM -630 pm
https://youtu.be/0nhIxOs8BfE

This show, led by two young emerging scholars in the charismatic reformed tradition, is gaining more and more traction with young pastors and leaders searching for theological insights.  The two co-hosts spoke to me about why I participated in co-writing the NAR and Christian Nationalism Statement.

Everyone who heard the interview thought that this session brought great clarity to the issues behind the NAR.  The hosts both indicated that they would like to have me back .

In conclusion, as the holidays approached, my focus became more about spending time with my immediate family and our local church community.

It was an amazing year indeed!
We trust that you are blessed to know the work of Mattera Ministries, please consider giving a one-time gift or partnering with us with a monthly gift.  
Kindly visit our website and get further acquainted with us if you were made aware of our ministry recently.  Please use the link below to send us your love gifts:
https://josephmattera.org/donate/
Any donation to Mattera Ministries International is an eternal investment that advances the Kingdom of God!
Please check out the latest book from Joseph Mattera here!
Sign up for our Newsletter and receive free weekly articles
Sign Up Now